Get Styled By ...
Ready to take your style to the next level? Let us introduce you to your new fashion gurus. They're here to help you slay your next look!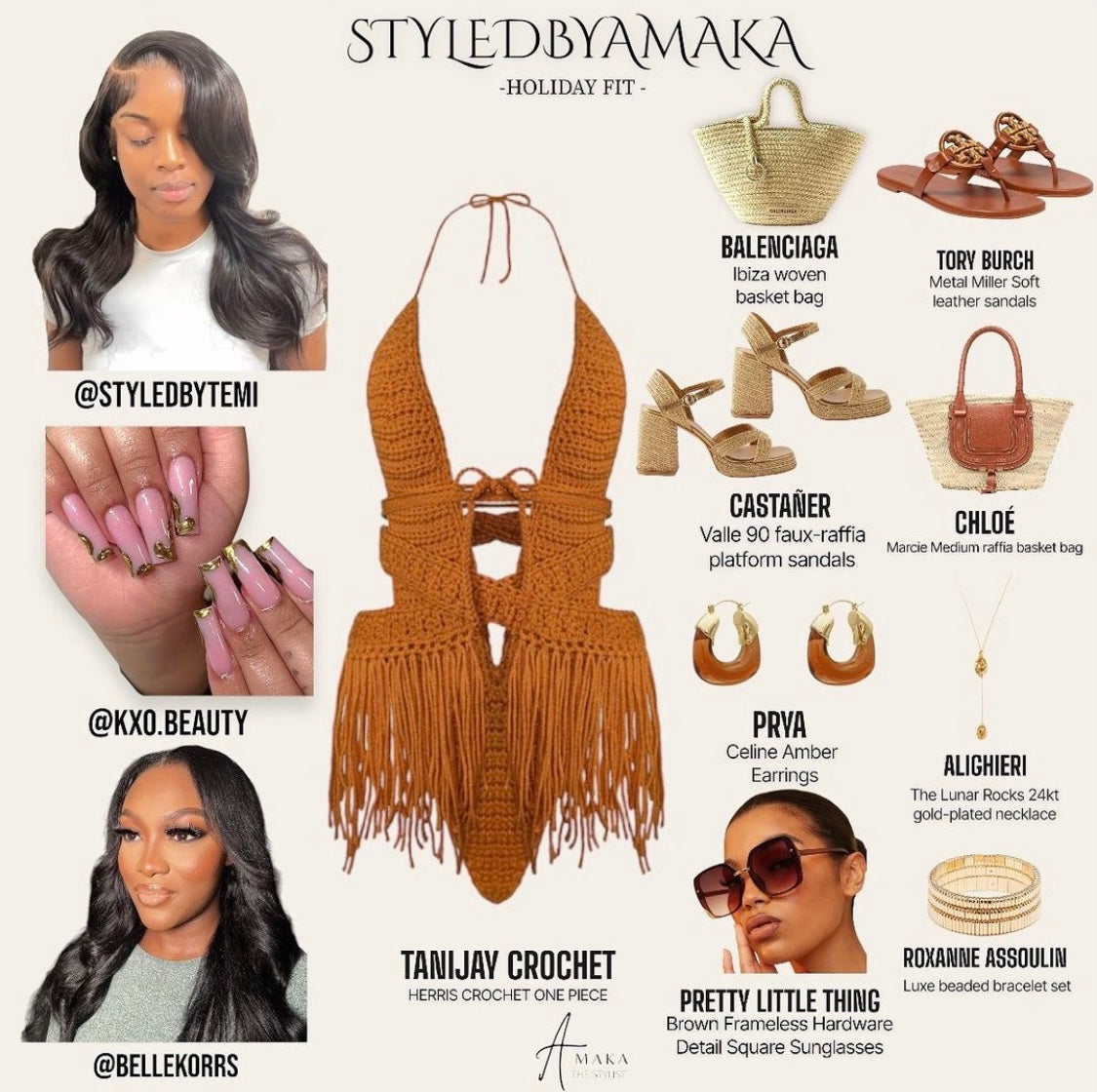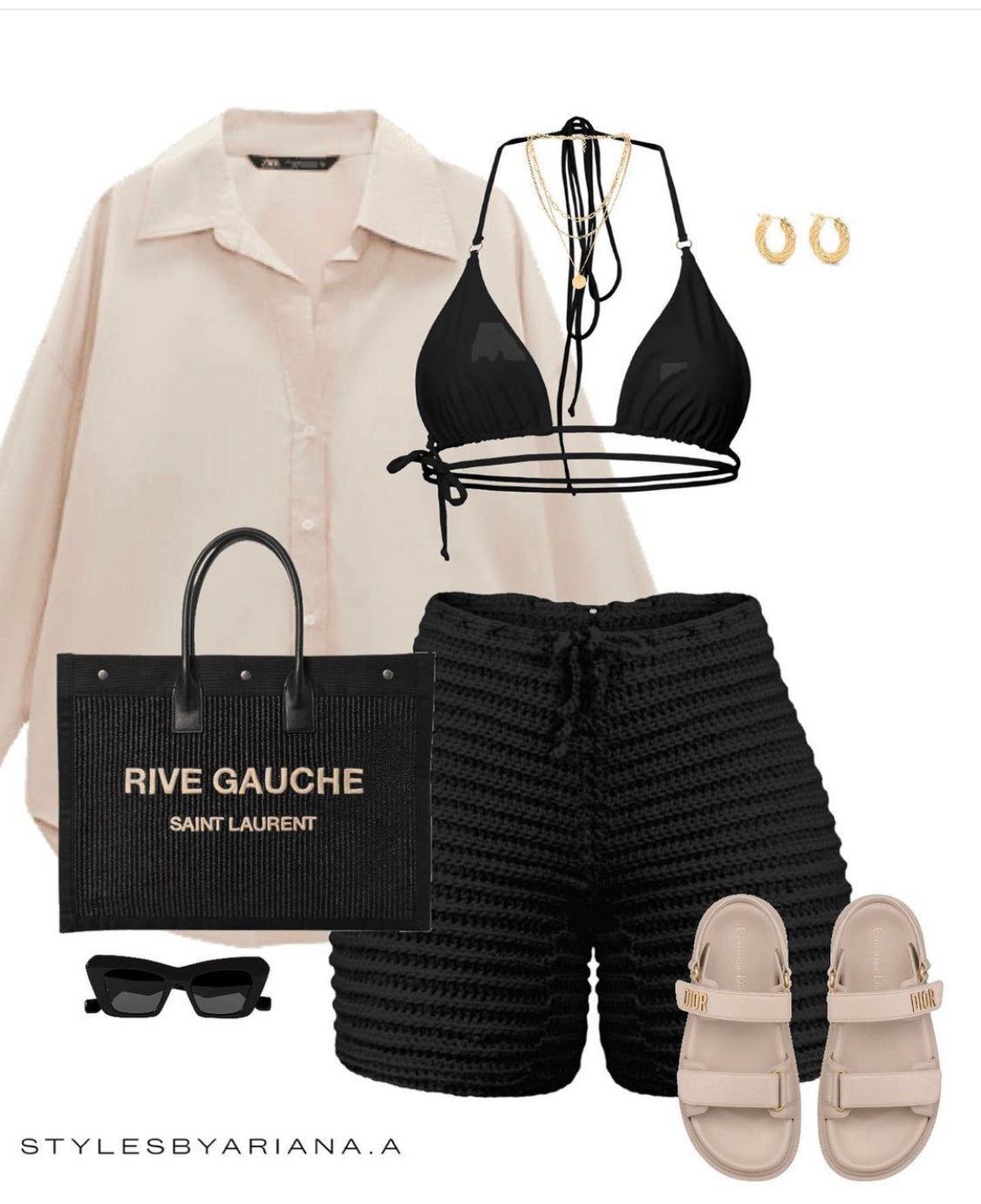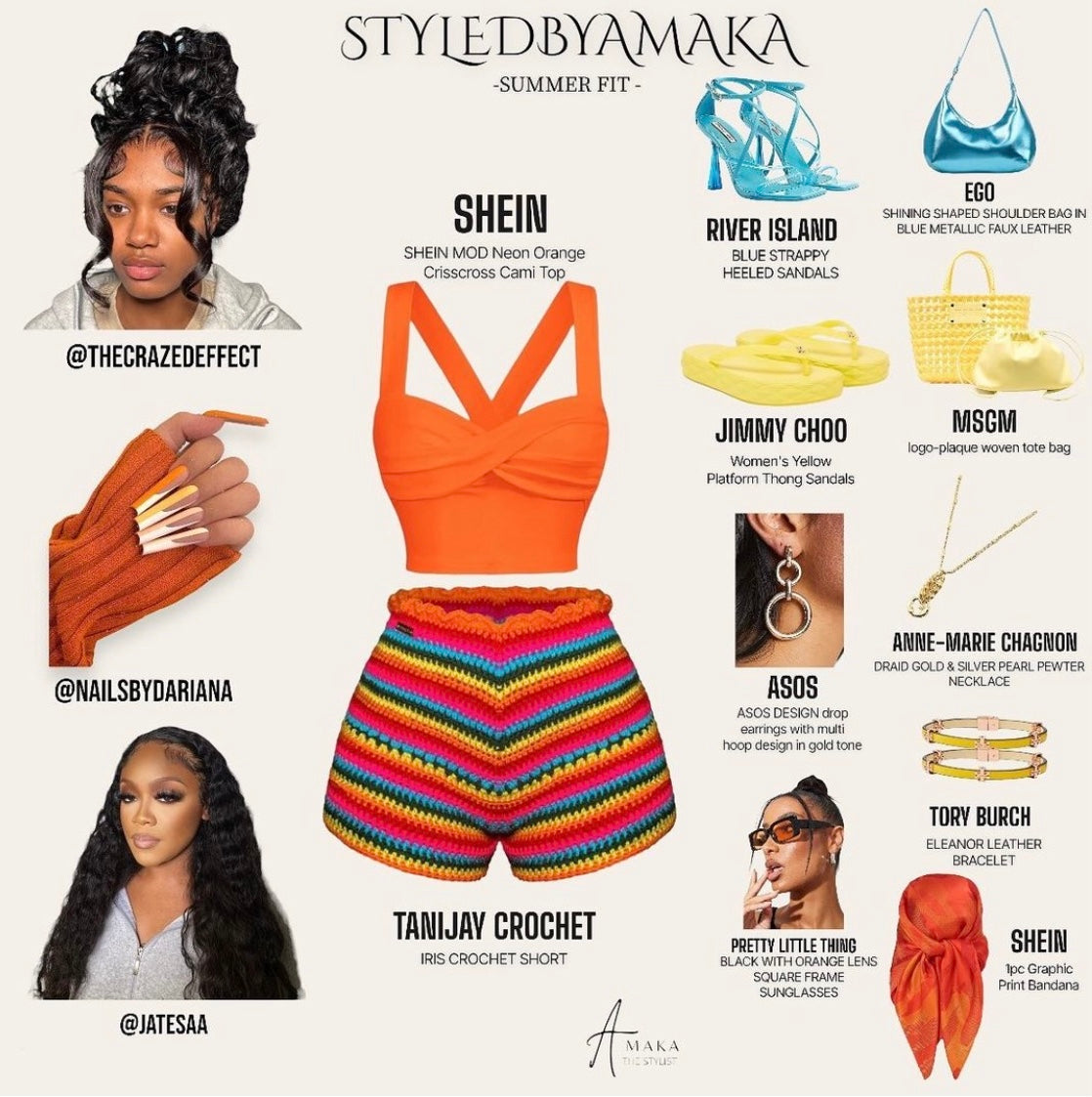 One top, many ways to tie.
"Wrap Around"

"Neck Tie"

"Knotted Middle"

"Double Bow"
Quick Stop..
Contact Us

We're always happy to assist, please select the inquiry type and fill in the required fields. We welcome all comments and feedback.


Send us a text at anytime:

(201) 286-6395

Email Service:
support@tanijaycrochet.com 
We'll get back to you within 72 hours.

 

You may find answers to many questions in our extensive Help section:

Behind the Hook: Meet Tani

Our owner Tani (Tan like the color, Ni like your Knee), designs and hand makes every item with incredible creativity and passion. She is a self taught fiber artist whose crochet journey began in 2016 after falling upon dark times and needing a creative outlet. After finding solace in crocheting she later was encouraged to share her love for wearable fiber art and the beauty it enhances with each wear.

With its birth came the idea that sizes are just incomplete fashion equations, meaningless. S/M/L/XL/2XL do not exist. There is only you, your size. Your pieces are made specifically for you using her creativity and two hands.

The result is almost magical, but the proof is in what happens when you wear it. :-)

We strive to offer designs that empower every soul who chooses to appreciate the art of handmade fashion. Here at TJC we want our clients to feel sexy and confident whilst making a statement poolside or while on the go. We follow the latest fashion trends and take our inspiration from the catwalks to produce designs that we know you will love.

The typical TJC girl is playful, sassy, assertive and knows what she wants out of life. She is a free spirit and is always on the lookout for the latest 'it' bikini or statement piece.  The typical TJC guy is confident, playful, stands out and loves to naturally grab everyone's attention with statement pieces. He isn't afraid of adding a dash of pink or feminine colors to his daily style, he embraces himself entirely. 

We are a one-stop shop for all your crochet needs and offer a wide selection of handmade items from loungewear, crochet swimsuits, monokinis, hats and so much more.
TJC Crochet Measurement Guide

TaniJay Crochet's Guide on 

HOW TO MEASURE

Providing your measurements help us to create items tailored specifically to you. 

Your measurements + TJC = Recipe for perfection

Ten minutes of your time to get accurate measurements makes you enjoy the perfect fitting custom item for years to come.

A flexible measuring tape will give you the most accurate measurements. If you don't have a flexible measuring tape, you can use a string and then measure the length against a ruler or print out a copy of our free measuring tape.

If you are unsure or having difficulties following our sizing guide please don't hesitate to contact us

via live chat.

 You can also call us at 

848-863-5788

and Tani will personally assist you with with any sizing relation questions.

- - - - - - - - - - - - - - - -

 

- - - - - - - - - - - - - - - -

 

- - - - - - - - - - - -- -

NECK :  Make sure the tape lays flat and horizontal, take the measurement in the middle of the neck, between your collarbone and chin. If you have a prominent larynx (Adam's Apple), measure right below this level for the most accurate measurement. 

HIGH BUST: Measure by placing the tape above your bust, around your body just under your arms, with arms down at your sides

FULL BUST :Make sure to wear a lightly-lined or unpadded bra before measuring your band size. Take out a measuring tape and wrap it snugly across your back, keeping it parallel to the ground, and measure directly under your bust. Round down to the nearest even number and note your band size.

UNDER BUST(BAND):While braless or wearing a non-padded bra, use a measuring tape to measure around your torso directly under your bust, where a bra band would sit. The tape should be level and very snug. Round to the nearest whole number.

ARM LOOP: Standing with your feet flat on the ground and with your arms down by your sides, place the measuring tape on top of your shoulder and loop it under your armpit. Make sure the tape is sitting comfortably and not too tightly.

WAIST:

Place the measuring tape above your belly button at the smallest part of your waist. Relax your stomach and wrap the tape around your waist. Make sure to keep the tape snug, but not tight, and ensure that the tape measure is level from front to back.

Write down the number at the meeting point of the measuring tape. 

NECK TO WAIST (FRONT): Standing straight with legs together, measure along the front midline of your body, between your front collarbone and your waist elastic, keeping the tape as flat to your body as possible

RISE: The front rise is measured from the crotch seam straight up to the top of the waistband

HIPS: Standing with feet shoulder width apart, wrap the measuring tape around the fullest part of your hips, across your butt and straight across the front of your pelvis. Make sure to keep the tape snug, but not tight, and ensure that tape measure is level from front to back 

THIGH: Standing with feet shoulder width apart, wrap the measuring tape around the thigh, where the bottom of your butt meets the top of your thighs. Make sure to keep the tape snug, but not tight, and ensure that the tape measure is level from front to back.

CALVE: Sit down and place your feet flat on the floor in front of you.

Use a tape measure and wrap it around the widest part of your calf, doing your best not to leave a gap.

SHOULDERS - Take the tape measure across your shoulders from the bone at the top of your arm straight across your back to the bone at the top of the other arm. If you have a shirt that you like, simply measure from the arm seam across the back of the shirt to the arm seam on the other side

WAIST - KNEE: Place your soft tape measure at the waistline roughly on the front side of the body measure from this point down the top of the thigh. Until you reach the middle of the kneecap

SLEEVE LENGTH: Hold the tape measure using your fingers at the bottom of your wrist, bend your arm so that you have your hand on your hip, and then take the tape measure up over your bent elbow and up the rest of your arm to the bone at the top of your arm. 

CROTCH -ANKLE(INSEAM):Measure from your crotch to just below your ankle bone, along the inside of your leg.  Hint:

Grab your favourite pair of pants or shorts that already fit you well and lay them on a flat surface. Measure from the crotch seam to the bottom opening of the pants for another way of getting this measurement. 

 WAIST TO ANKLE(OUTSEAM):Measure from your waist elastic to just below your ankle bone, along the outside of your leg. Make sure your Outseam measurement is longer than your Inseam measurement.

KNEE: Measure around your leg at the knee, with your leg extended.

ANKLE: Measure around your ankle at the ankle bone.

SOMETIMES WE JUST NEED TO DO THE ADJUSTMENT SHIMMY.
Caring for Your TJC Crochet Items

Care Instructions

Caring for your crochet items is important, as the more care you put into your item the longer wear-span it will have. There are a couple ways we can help you ensure a long wear-span. Below is our guide to washing, drying and storing your crochet items.

 

 TIPS FOR MACHINE WASHING YOUR CROCHET ITEM: 

Fill the washing machine with laundry items of similar color but do not overload.
Insert your crochet item inside your TJC mesh laundry, zip and secure the zip.  (Note that acrylic yarn does not bleed color, but you should still be mindful of the colors you mix in the laundry)
Use a mild detergent to wash your crochet items. It is recommended to wash on a delicate cycle

 

(cold water).

TIPS FOR MACHINE DRYING YOUR CROCHET ITEM: 

 

Still in your TJC mesh laundry bag, set your dryer on low heat and remove once the cycle is done. (Acrylic and other synthetic yarns can be washed and dried with your regular laundry because they don't shrink. They may, however, stretch with heat, so always choose cold water and low dryer settings)

** If you machine dry on high heat and "fuzzies" appear on your item. This is a natural process and happens due to friction, Do NOT panic, they removable. You can use a a pair of scissors to carefully trim the areas needed, an electric lint shaver can also get the job done if accessible. **

TIPS FOR

 

HAND WASHING YOUR CROCHET ITEM:  Hand-washing may seem tedious, but if you you'd like to enjoy your items for years to come, caring for them properly helps the process)

Fill a bucket/sink/tub/basin with cool water (tap is acceptable). Avoid using hot water as it can damage the fibers of your

 

crochet items.
Add a mild detergent or baby shampoo and stir for five minutes.
Soak your crochet item in the detergent for 15–30 minutes.

 

Don't add fabric softener, bleach, or other harsh chemicals. 
Gently rub the soap into the fabric with circular motions.

Begin to scrub the item lightly by grabbing two portions of it and rubbing them together. This helps loosen dirt and wash out any spots it may have.

Rinse your crochet item thoroughly under cool water until all of the suds have been removed and the water runs clear.
Squeeze out as much excess water as possible. To do this, you can lay your crochet item flat on dry towels. Then, roll up the towels and press down on them to absorb as much moisture as possible.
Unroll the towels and place the blanket somewhere where it can air dry well. 

TIPS FOR

 STORING

 YOUR CROCHET ITEM: 

For safe storage please use your TJC FROSTED ZIPPER BAG ( included in your order), as your go to storage aid. 
Insert your items inside your bag and make sure the zipper is fully locked.
Store your bag in the location of your choice until your next use.

NOTES

Please do not store wet crochet items in bags or dark warm places for a long period of time.

FOR ANY QUESTIONS REGARDING THE CARE AND MAINTENANCE OF YOUR CROCHET ITEM(S) PLEASE  FEEL FREE TO CONTACT US

| SUPPORT@TANIJAYCROCHET.COM |
View TJC Yarn Catalog
We Asked a Few of Our Clients For Their Honest Thoughts ...
Here's What They Had To Say
Parris.

"I'm constantly amazed by your unique designs and color choices. Every piece I've bought from your shop has brought so much joy and warmth to my home. Thank you TaniJay!!"

Tanisha.

"The delivery was prompt, and the packaging was adorable! Opening my crochet order felt like receiving a gift."

Nisha.

"I love my items , the customer service was amazing. When I received my items they were well packaged. The quality of the material was so soft, and Tanijay is very creative when it comes to her designs which makes her stand out from the rest. I didn't encounter any damages or problems. I received so many compliments on my bathing suit , and I just loved it. I can't wait to order more !"

Liam.

"I took the chance and purchased, and was not disappointed. I will shop again soon. One word... FIRE!"

Collin.

"Everyone keep asking me about my custom ski masks, it never fails. You bought my vision to life, thank you"

Chantalae.

I am in love with the pieces that I have received , i originally bought it for a trip to Jamaica and it held
Up really well. I was able to wear it in the water and also able to wash and line dry it back to its original condition. The customer support was amazing from originally ordering the product, to receiving it. Ordering online especially Instagram can be intimidating not knowing if it will be legit or how to handle things if there is a problem. None of that was an issue! I also received an extra piece at the time because it was around my birthday. I was pleased with how everything came out and the sizing was also perfect. I haven't worn my pieces again because it was designed for something in particular, but I do hope to order soon!

Zaquera.

I Had Purchased 2 Perfectly Handcrafted Bras ; One In Pink &' One In Purple. Tani Has Excellent Customer Service Which Is Something I Always Look For In A Business Especially Online. After Briefly Answering All Questions. My Package Was Packaged And Shipped Out With 24-48Hrs As Promised. Bras Were Of Thick Material, Not Flimsy At All &' Took Good When Thrown In The Wash n Dry.
SUN HATS
Regular price

Sale price

$47.00 USD

Unit price

per

Regular price

Sale price

$47.00 USD

Unit price

per
ONE PIECES
Regular price

Sale price

$70.00 USD

Unit price

per

Regular price

Sale price

$70.00 USD

Unit price

per
TOPS
Regular price

Sale price

$40.00 USD

Unit price

per